Summertime Home Renovations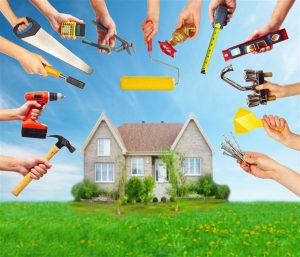 Summertime brings to mind rest and relaxation, sunny patios and cold drinks. If you have a few home renovation projects on your list, it can also be the best time to get cracking. There are myriad reasons why this is the ideal season for upgrading your home: the nice weather means mud and snow don't get tracked into your home by contractors; your heating system's usually sitting idle, so changing out an old furnace (and maybe adding an air conditioner) couldn't be more convenient; your home's exterior and landscaping are uncovered, making it easy to spot and remedy problems; and vacation time is often more easy to come by in the summer months, meaning you can be around to supervise work and answer questions.
So what sort of things can you tackle right now? Here are a few popular projects:
Upgrade the windows
New windows can have a substantial impact on energy efficiency and home comfort, especially if your property is more than ten years old. Modern window technology can keep you cooler in the summer and warmer in the winter for a one time cost that may pay for itself with the reduction in furnace use.
Add an air conditioner
While this might seem like an extravagance in a city like Calgary, where summers aren't usually excruciatingly hot, incorporating an air conditioner into your home's heating system may not be as expensive as you think, and the improvement in your sleep and overall comfort throughout the summer may well be worth it. When selling your home, an integrated AC system can also be very attractive.
Redo your deck
Spending a weekend stripping and re-staining your deck, accompanied by a few beers and a stereo, can be a surprisingly enjoyable summertime project; doing this regularly will vastly extend the life of your deck, too. Just make sure there's no rain in the forecast, as having an unexpected shower lift your stain right after you finish is a real bummer.
Update the landscaping
Most of us, at the very least, plant some annuals and tidy up the yard. But if you have a vision of a more substantive overhaul – which can boost curb appeal and just make you smile when you come up the driveway – summer's the time to do it. Hiring a trusted landscape contractor, with good references and a solid portfolio, can save you time, money, and aggravation in the long term.
Power wash the house
A winter's worth of grime can make your home's exterior dull and uninviting: an hour with a power washer can rectify this, making your property look like new again. Depending on how thick the dirt is, power washing can even keep your home cooler, as lighter colours reflect the sun's rays more efficiently.
Organize the garage
For most of us, the garage can quickly become a repository for stuff we don't want to deal with, and throughout the winter it's hardly an inviting environment in which to spend a few hours organizing. So do it in the summer! Raise the garage door, put on some tunes, and get your space clean and itemized so you can find what you need when you need it. Then call the charity of your choice to pick up all the things you discovered you haven't needed in the past year.
Those are just a few ideas of summertime improvement projects. Have some that I missed? Mention them in the comments! Want to talk to an expert on the best places to put your time and money to make your home sale-ready for the fall? Contact me today!
Tags: Calgary Home Renovation, calgary house, calgary real estate, Calgary renovations, Home Renovations