Thursday, March 13th, 2014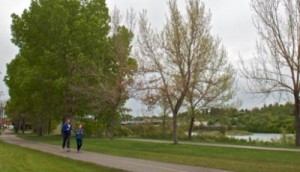 Close to SAIT, a quick trip across the Peace Bridge from downtown, and walking distance to some of the city's trendiest restaurants and coffee shops, Hillhurst is a young couple's dream community, evidenced by the fact that nearly 80 percent of its residents are single or couples. Hillhurst is celebrating its centennial this year, making it one of the city's oldest communities. Nearly 6,300 people live in the community, which measures a little under one square kilometre.
Aside from great eating and drinking, Hillhurst residents take full advantage of the 20-acre Riley Park, as well as an active community association that organizes youth soccer, an annual comic book sale, flea markets and seniors groups. The community hall is one of Calgary's bigger ones, with two licensed kitchens, a gym, board rooms, three halls, craft areas, and more; they even have their own bouncy castle to rent out for birthday parties.
Hillhurst was among the communities affected by 2013's flood, and the community association offers extensive resources regarding flood recovery on its website. Much of the area is back to pre-flood condition however.
With both public and separate school options for elementary through high school, Avenue Magazine's annual survey declared Hillhurst the fifth-best neighbourhood in Calgary for 2013.
To see homes available in Hillhurst, do a Quick Search.
To get a complete market report on Hillhurst, or any other neighbourhood you are interested in, use our quick and easy market report request.