New Listing in Bonavista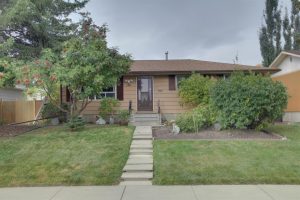 Excellent curb appeal in a great location on a quiet street. Facing a green-space that includes a playground out a ways across the field, but still within view. The community centre (and its ice rink) are nearby. This is a court-ordered sale (not a foreclosure). The occupant currently living in the house is not allowing showings at this time. The listing agent has not viewed the interior; only the exterior from the front street and rear lane. No interior measurements are available nor are accurate details of the interior lay out and condition. The home is believed to have at least 3 bedrooms and at least one full bathroom. The basement is listed as being undeveloped (even though it may be). City records state the size as 1,042 square feet. There is no historical MLS information available for this property (first time offered for sale on MLS). You are welcome to view the property from the front street and rear lane but please make no attempt to enter the yard.
To view more photos and full listing details visit my web page.
Tags: Bonavista House, Bonavista Real Estate, Calgary Bonavista, calgary investment, calgary mls, calgary mls listing, calgary real estate